Lifehouse Church warmly welcomes people of all ages & backgrounds. Lifehouse was pioneered in Camden by Senior Pastor Paul Stevens in April 2010. We are a vibrant, contemporary, bible based, family church with a strong community focus.
We believe that connecting to God & each other is the most significant way to 'ignite' our lives, that is; the best way to enjoy & excel in the great plan God has for us.
We look forward to meeting you!
About Our Church Video
About Senior Pastor Paul
Paul was on the Pastoral team for 10 years at a church in Cronulla, South of Sydney. Paul was Cronulla Sharks National Rugby League (NRL) Chaplain for 5 years, successfully combining ministry & his experience as a former NRL 1st grade player. Paul played 10 years in the NRL competition, with both the Cronulla Sharks & St. George Dragons.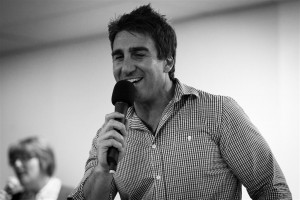 Our history
Shortly after coming to faith in 1995, Paul believed God had called him to one day become a Senior Pastor of his own church, receiving this accompanying promise from Joshua 1: "you shall lead these people to inherit the promise land". He was then lead out of a successful rugby league career to acquire Pastoral qualifications at Bible College & serve as a Pastor in his local church.
One night in March 2010 Paul experienced a special visitation from the Holy Spirit. Paul shares; 'I was on a 10 year long service leave break & had been praying about my future direction in ministry. Then one night as I was preparing to go to bed, God showed up in my bedroom! He began speaking to me, not audibly but in my thoughts. He commissioned me to plant a church in Camden.
I had heard of Camden but was not familiar with this area having grown up one hour away at Brighton Le Sands & living more recently at Cronulla in Sydney.'
Paul was obedient to this heavenly calling & began lifehouse church in April 2010. The first time Paul drove into Camden for the commencement of the church, he felt it was like 'coming home' & believed this to be the commencement of the fulfillment of that earlier promise…. Camden being his promised land.