Lifehouse Church in our community!
Lifehouse Church is proud to support local charity groups and organisations across Macarthur. Our church has a heart for the community and loves to help out at events, festivals and fundraisers as much as we can. We think it's important to give back to our community and touch the lives of those around us.
Supporting local causes:
Macarthur Swimathon for Cystic Fibrosis
Camden council Narellan Rhythms Festival
Christmas in Narellan
Camden Festival Skate Comp
Light Up Camden
Sportsman's Lunch - Partner Housing Australia
Camden Council Harmony Day
Gregory Hills Christmas Carols
Camden Council Youth Week
Christmas in July Charity Luncheon
Narellan Chamber of Commerce
Camden Wollondilly Domestic Violence Committee - White Ribbon Day
Swimathon for Cystic Fibrosis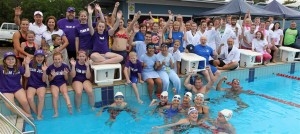 Each year Lifehouse Church Camden actively supports Macarthur's Swimathon for Cystic Fibrosis. We are part of the organising committee and donate several auction items to the Swimathon Launch Night at Camden Valley Inn!
On the day of the Swimathon you will find Lifehouse volunteers face painting and swimming to support this worthy local cause. Since 2008 the Swimathon for CF has raised more than $300,000 for local kids and their families living with Cystic Fibrosis. Check out our gallery of photos here
Narellan Chamber of Commerce

Pastor Paul has served on the executive of the Narellan Chamber of Commerce. He was the Marketing and Communications officer for the chamber and continues to have an active interest in the health and wellbeing of local business owners and their families. Lifehouse Church supports small businesses in our community and loves taking part in events organised by the chamber including Christmas in Narellan.
http://www.narellanchamber.com.au/
Community work in the Media
Through our involvement in the local community Lifehouse has received great support from our local newspapers. Check out some of the great stories about our church and the things that we do in the community.